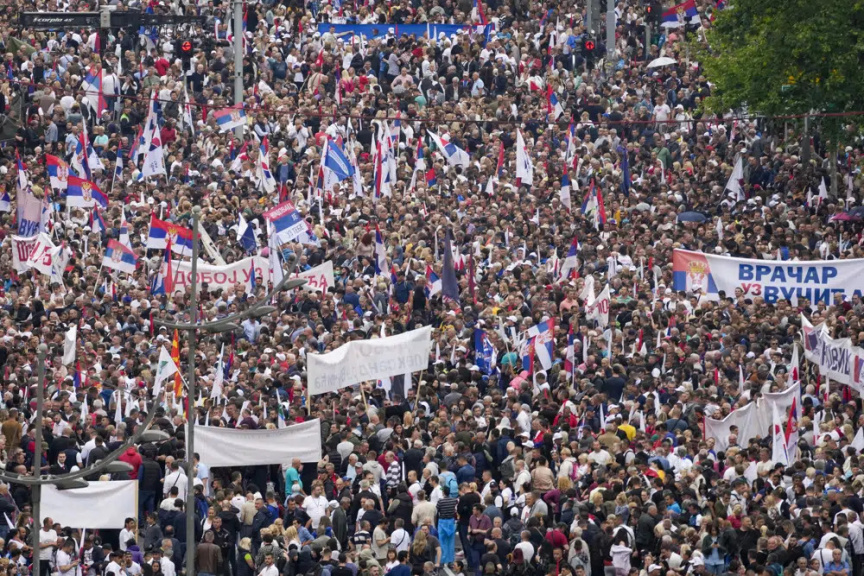 People attend a rally in support of President Aleksandar Vucic in front of the Serbian parliament building in Belgrade, Serbia, Friday, May 26, 2023. (AP Photo/Darko Vojinovic)
Tens of thousands of people have staged the fourth weekly anti-government protest in the Serbian capital Belgrade after two back-to-back shootings that killed 18 people, half of them children.
Carrying flowers, the demonstrators defied heavy rain and ringed the building of the state-run RTS broadcaster, demanding the resignations of top directors and editors.
The "Serbia against violence" protests have culminated into some of the largest rallies since widespread demonstrations triggered the fall of strongman Slobodan Milosevic over two decades ago.
They have tapped into simmering anger at the ruling party over what protesters say is a culture of violence fanned by the government and the media outlets they control.
"I am here because I am fed up with the lies and corruption. Nothing will change here until people realise it is possible and that we do have a choice," 40-year-old Dusan Valent told the AFP news agency.
The government denies opposition parties' allegations, and accuses them of staging protests for political gain.
The protests took shape after the early May mass shootings that left 18 people dead and wounded several others.
Nine of the dead were students at a Belgrade elementary school whom a 13-year-old pupil gunned down.
The demonstrators also want the government to revoke the broadcasting licences of television channels promoting violent content, and a ban on pro-government newspapers that stir tensions by targeting political dissidents.
They also want the interior minister and the head of the intelligence service to resign.
Counter rally
Serbian President Aleksandar Vucic organised a rally of his own supporters on Friday in a show of force against the opposition-led protests.
Tens of thousands of people bussed-in from across Serbia, neighbouring Kosovo, Montenegro, Bosnia and North Macedonia rallied in the centre of Belgrade in a show of support for Vucic.
Vucic initially dismissed the protests as a "political" stunt, but seemingly softened the stance towards the demonstrators.
"Those who rallied in the past couple of weeks are, for the most part, good, decent and normal people who want what's good for Serbia," Vucic said during a rally on Friday.
"Those I cannot appreciate are the politicians, who will make history with dishonour, by abusing the greatest tragedy of our people," he said, referring to the shootings.
But Vucic turned down their demand for a transitional government ahead of new elections.