FIA, a day earlier, had moved a formal petition for an in-camera hearing on Imran Khan's bail plea in cipher case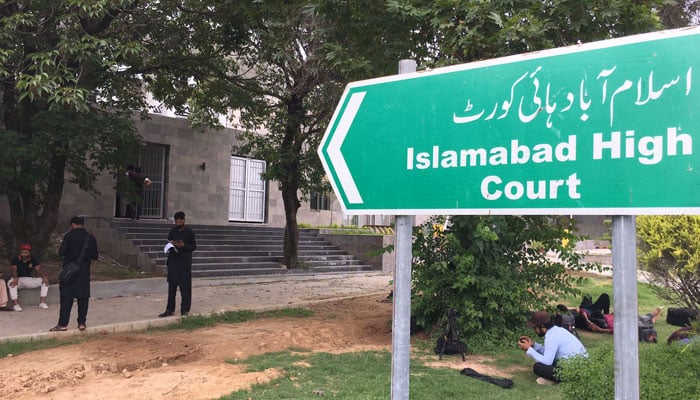 A billboard pointing towards the Islamabad High Court. — Geo News/File
ISLAMABAD: The Federal Investigation Agency (FIA) on Monday urged the Islamabad High Court (IHC) to hold an in-camera hearing of Pakistan Tehreek-e-Insaf (PTI) Chairman Imran Khan's bail plea in the cipher case, fearing that an open court trial could harm the country's ties with other states.
FIA Special Prosecutor Shah Khawar made the appeal after the court met following a short break.
Before the break, the IHC decided to hear the FIA's plea for an in-camera hearing along with the PTI chief's petition for bail.
"Let's hear the application for in-camera proceedings along with the main application for bail," observed the court when it took up the petition.
Last week, the IHC had ruled that the hearing on the PTI chief's bail plea in the cipher case will take place in an open court.
IHC Chief Justice Aamer Farooq had stated this in a two-page written order in response to the prosecution's verbal request for in-camera proceedings.
The FIA had initially sought closed-door hearings, citing the presence of "privileged" and "sensitive" documents and information.
The court had, consequently, instructed the FIA prosecutors to submit a separate petition for in-camera proceedings during the upcoming hearing.
Following this, the FIA, a day earlier, moved a formal petition for an in-camera hearing.
IHC to announce verdict on Imran Khan bail pleas today
Meanwhile, the IHC is also expected to announce its verdict on the PTI Chairman's bail plea in nine other cases.
A two-member bench, comprising IHC CJ Aamer Farooq and Justice Tariq Mehmood Jahangiri, will announce the reserved verdict.
Sessions and an anti-terrorism courts had dismissed the PTI chief's plea for seeking bail till a final decision was made in the nine cases. The PTI chief then challenged the decision in the high court.
Khan had contended in the pleas that the authorities should be barred from arresting him in these nine cases till a final decision is not given. He also stated that the courts should be instructed to decide the nine cases on merit.
According to the application, three of these cases are related to the May 9 incidents and three are on the protest in Islamabad, while one case is the Toshakhana case, other of violation of Section 144 and another of an attempt to murder.