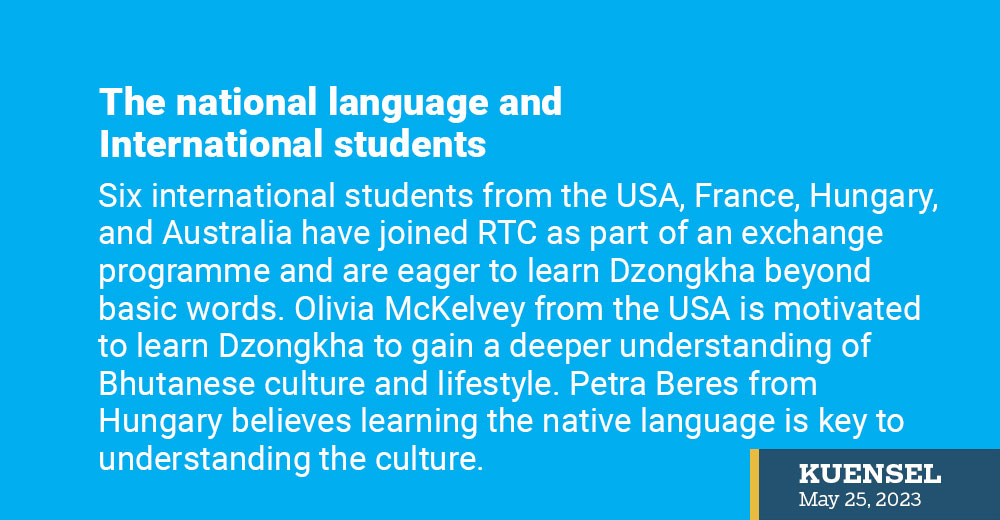 At the Royal Thimphu College (RTC), a group of foreigners from the USA, France, Hungary, and Australia, dressed in Kira, greets visitors with the traditional Bhutanese greeting "Kuzuzangpo la." These six students have joined RTC as part of an exchange programme and are eager to learn Dzongkha beyond a few basic words.
Tenzin Namgyal, their language teacher, said that the students are being taught to speak basic Dzongkha and are also learning simple writing skills. Many international students choose to learn Dzongkha out of genuine interest.
Olivia McKelvey from the USA is motivated to learn Dzongkha to gain a deeper understanding of Bhutanese culture and lifestyle. She believes that language proficiency plays a significant role in comprehending society. Olivia adds, "When we speak the native language, we can even connect with elderly people who don't understand English." To improve her command of the language, Olivia converses with her roommates in Dzongkha.
Petra Beres from Hungary wishes to connect with the local people and believes that learning the native language is key to understanding the culture. As students who have come to Bhutan for studies and will spend a considerable amount of time there, they see it as an opportunity to learn and practice the native language. Petra emphasizes, "We are not tourists. We are students, so it's always good to learn unknown languages."
Elisha, a French national, finds Dzongkha challenging and confusing at times. However, she is able to understand her friends and roommates when they speak Dzongkha. "When they gossip in hostel rooms, I can easily make out what they are talking about," she said.
According to the students, learning Dzongkha is beneficial in various situations, such as communicating with taxi drivers, shopkeepers, and elderly individuals. One student said that they often introduce themselves to taxi drivers in Dzongkha. Others said that not understanding Dzongkha can pose challenges when interacting with people in the market. However, now they can at least respond in Dzongkha.
The students feel that knowing how to speak Dzongkha provides a different perspective on Bhutanese society and its people. They express their excitement about impressing their parents by greeting them in Dzongkha when they return home.
Dzongkha has become a way for these students to carry a piece of Bhutan with them when they go back to their respective countries. Tenzin Namgyal mentions that the Dzongkha course was initially started by a resident coordinator in 2014 and has seen an increasing number of student enrollments over the years.