The prime minister termed his visits to China and New York as successful ones.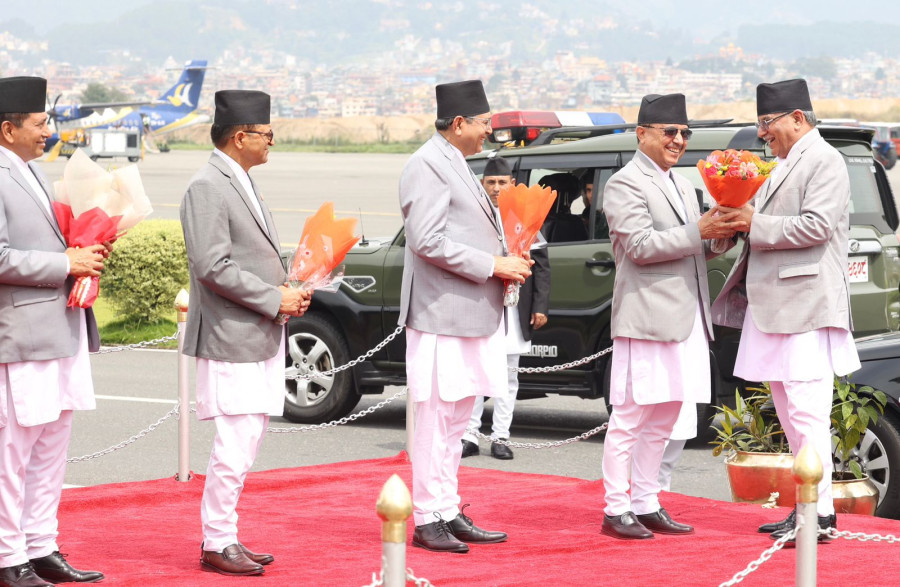 Prime Minister Pushpa Kamal Dahal on Saturday returned home after completing his half-a-month-long visit to China and New York.
Dahal left for Kathmandu from Chengdu on Saturday morning. Sichuan Provincial Government Vice Governor Yang Xingping, Chinese Ambassador to Nepal Chen Song, and other high-level provincial foreign ministry officers saw the prime minister off at the Chengdu Airport.
Upon his arrival in Kathmandu, the prime minister described both of his visits to the northern neighbour and the UNGA as successful ones.
"The visit [to China] has created an environment of mutual trust at the top political level and a conducive situation to attract more investment, expand bilateral trade and mutual cooperation while strengthening bilateral relations at the people's level," Dahal told reporters at Tribhuvan International Airport.
The prime minister left the country on September 16 to attend the 78th session of the UN General Assembly on September 21 and participated in bilateral meetings with some foreign leaders on the sidelines of the UNGA.
He claimed that Nepal's participation at the UNGA under his leadership had created a conducive atmosphere in getting international support for taking the remaining tasks of the peace process to a logical conclusion.
On September 22, he left for the Chinese city of Hangzhou, where he attended the opening ceremony of the 19th Asian Games and held talks with Chinese President Xi Jinping. In Beijing, the prime minister met his Chinese counterpart and witnessed the signing of 12 bilateral agreements and pacts.
He toured Tibet and visited the famed lake Manasarovar, a highly revered pilgrimage site for Hindus, Buddhists and Jains. This makes Dahal the first Nepali leader to visit Manasarovar as an incumbent prime minister.
Earlier this year, during his India visit from May 31 to June 3, Dahal had prayed at the renowned Mahakaleshwar Temple in Ujjain.