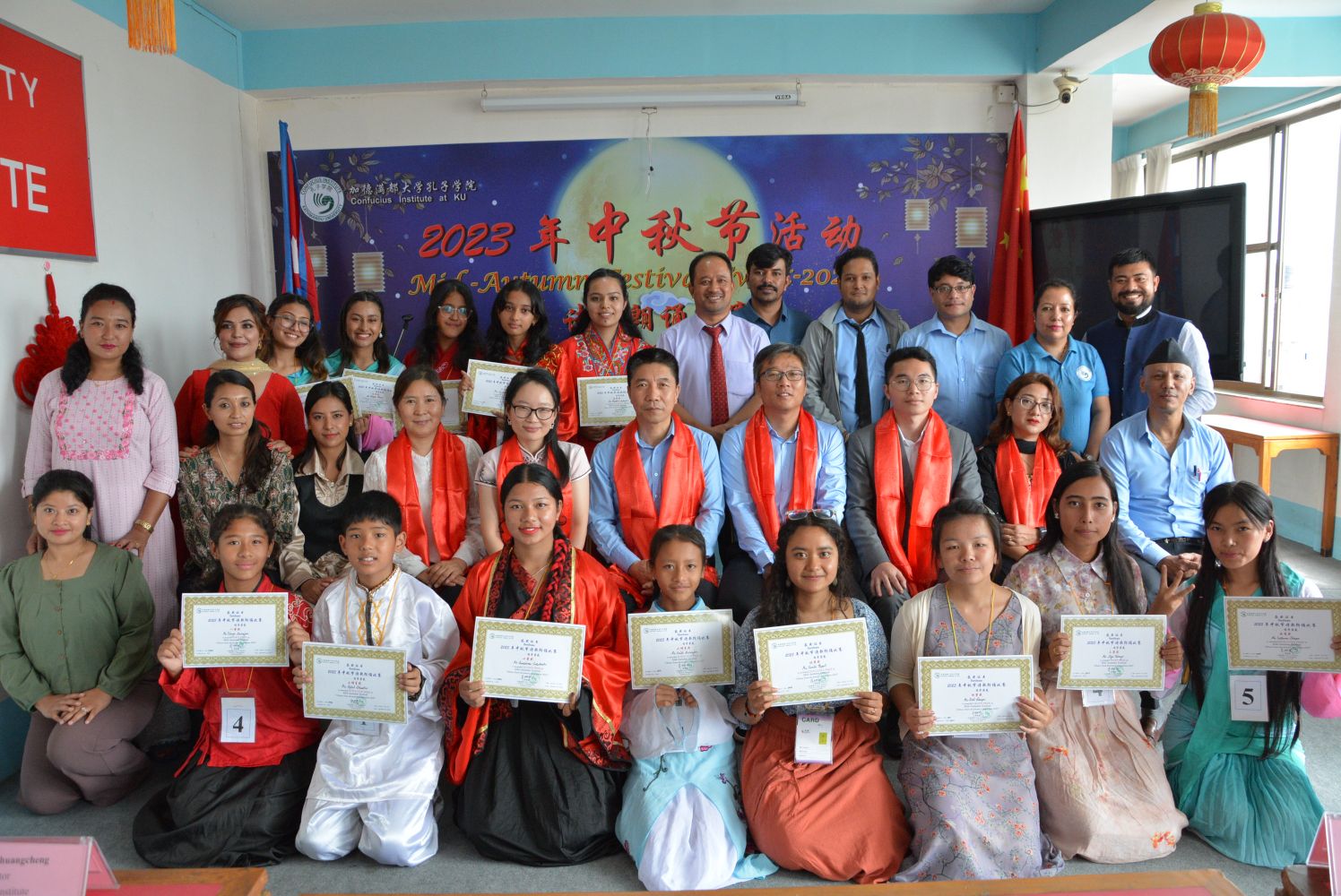 All the particpants, teacher and the judges from the diaspora posing for the group photos. Photo- Kathmandu University
On September 29 2023, the Confucius Institute at Kathmandu University held an event for celebrating Mid-Autumn Festival at its headquarters. The event was mainly focused on Chinese poem recitation Competition and also included other activities such as "Tasting and making of Mooncakes", "Experiencing Calligraphy" etc. On the event, lectures were also organized where myths, stories, culture and traditions of the moon cake festival was explained to the participants which included teachers and students of both countries i.e. China and Nepal.
Professor Uddhab Pyakhurel (Director of the International Affairs Office of Kathmandu University) also attended this event, whereas Teacher Wang Lisa from the Confucius Institute at Tribhuvan University and teacher Su Zhengju from the Nepalese Chinese Volunteer teacher association were invited to become judges for the primary school group and university group poetry Competition with three other teachers from the Confucius Institute at Kathmandu University. More than 60 people was present on the celebration which included judges and guests of the competition, all staff of the Confucius Institute, contestants from various teaching points and some students of the Confucius Institute.
Professor Li Shuangcheng (Director of Confucius Institute at Kathmandu University) in his speech expressed his welcome to all the participants, guests and judges who had attended the event. He pointed out, "The Mid-Autumn Festival is as important as the traditional Chinese Spring Festival and plays a vital role in the Chinese culture.
The Mid-Autumn Festival reflects the Chinese people's value pursuit of family reunion, social harmony and people's happiness." He also expressed his best wishes to the friends in Nepal, hoping that everyone can learn about China and Chinese culture through experiencing the Mid-Autumn Festival and some related activities. Latterly, he encouraged everyone to learn Chinese language well and contribute to cultural exchanges between the two countries.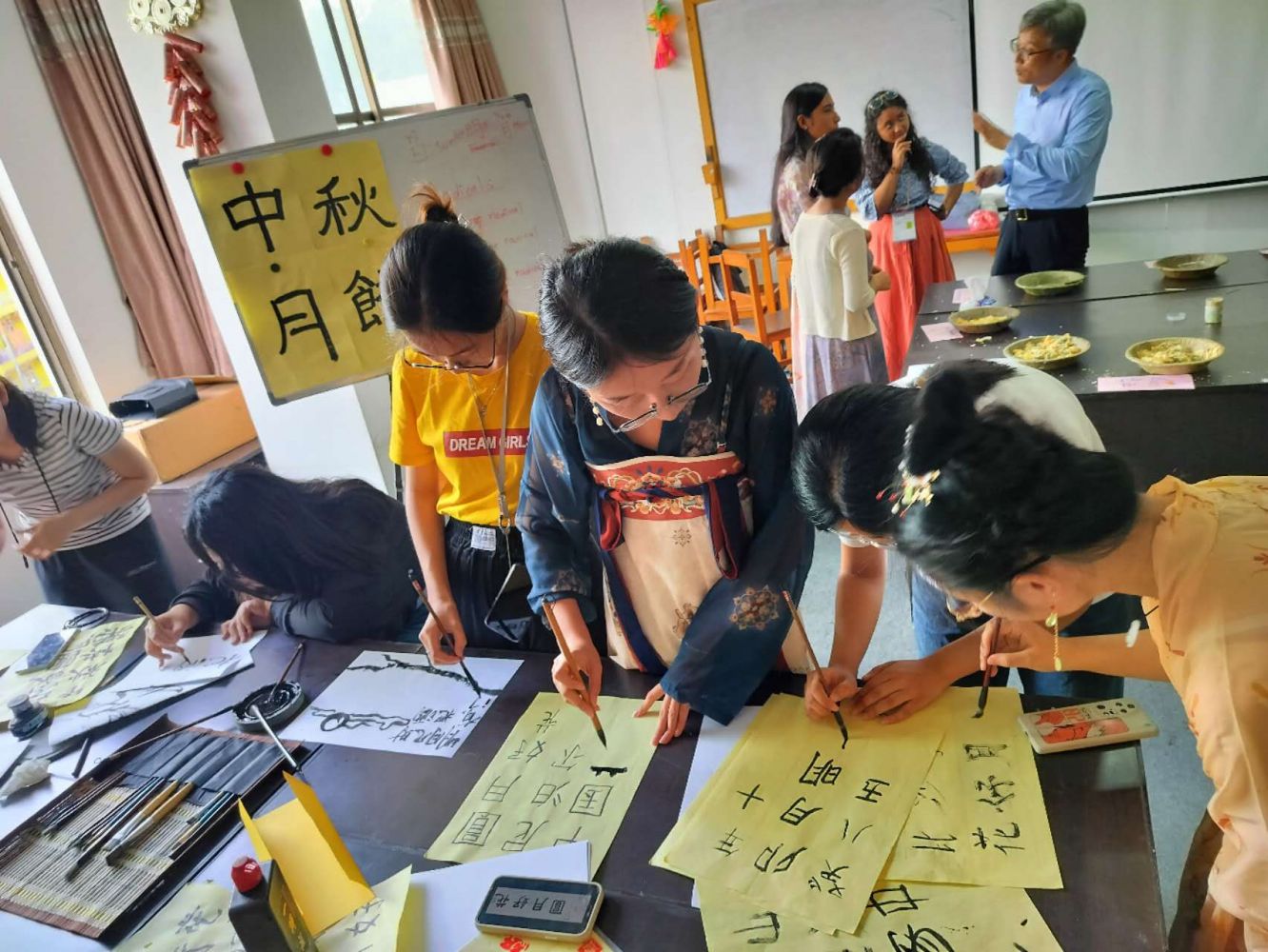 Professor Uddhab Pyakurel from the Office of International Affairs of Kathmandu University compared the concept of seasons from China and Nepal based on his experience of visit to China. He said that the cultures of the two countries have many similarities, and introduced the similarities between the Dashain Festival and the Mid-Autumn Festival. He also mentioned, "I hope Nepalese students can explore more commonalities between the two countries and promote mutual understanding."
Moreover, focusing on the theme of the Mid-Autumn Festival, "The Mid-Autumn Poetry Recitation Competition" was the main part of the event. Five primary school students and eight college students from the Confucius Institute at Kathmandu University entered the finals. After fierce competition, the five judges and teachers carefully and comprehensively evaluated each item and the competition came to an end with Divya Maharjan and Dali Sherpa winning the first prize in the primary school group and the university group respectively.