Naila Kiani becomes first Pakistani woman to climb six 8-thousanders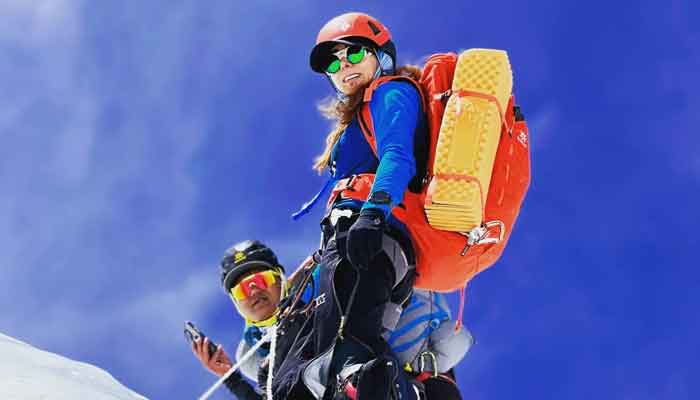 Pakistani mountaineer Naila Kiani is pictured at the peak of world's highest mountain, Mount Everest, with her fellow mountaineer. — Instagram/@naila._.kiani
Adding another feather to her cap, Pakistani mountaineer Naila Kiani reached the pinnacle of the world's fourth-highest mountain, Mount Lhotse, just days after scaling Mount Everest.
Lhotse is the fourth highest peak in the world at 8,516 metres, after Mount Everest, K2, and Kangchenjunga.
The climber summitted the mighty Everest on Sunday, becoming the second woman to raise the country's flag at the roof of the world, present at an altitude of 8,849m.
Kiani's expedition organisers in Nepal confirmed on Tuesday that she reached on top of Lhotse at 8:13am (country's local time).
With the latest feat, Kiani has been crowned the only Pakistani woman to climb six eight-thousanders. Apart from Mount Everest, she has previously climbed K2, Annapurna, Gasherbrum I and Gasherbrum II, within a span of just two years.
Besides, Kiani — a mother of two, a boxer, and a banker in Dubai — also became the first non-Nepalese climber to summit the peak named after Sir George Everest in 1865, this mountaineering season.
She had first gained prominence in 2018 after the images of her wedding photoshoot at K2 Basecamp went viral on social media.
Pakistani mountaineers have been making headlines as while Kiani claimed the incredible milestone, one of the most renowned climbers from the country, Sajid Ali Sadpara climbed the mighty Everest without supplemental oxygen on
Sajid, the son of mountaineering legend Ali Sadpara, made history on Sunday by scaling the world's highest mountain without the support of supplemental oxygen and assistance from Sherpas, who are considered elite mountain climbers, on Sunday in Nepal.
The mountaineer became the first Pakistani to reach the world's highest peak without the aid of supplemental oxygen, fulfilling the wish of his father who died during his summit of killer mountain, K2.
Sajid aims to climb all 14 eight-thousanders without the aid of supplemental oxygen. He has already summited K2 (8,611m), Gasherbrum-I (8,080m), and Gasherbrum-II (8,035m) in Pakistan, as well as Manaslu (8,163m) in Nepal, without supplemental oxygen.
Mount Annapurna rescue
Kiani was among the two Pakistani mountaineers who had been rescued on their way down to Mount Annapurna last month. She was accompanied by the world's youngest mountaineer Shehroze Kashif on their ascent to 8,091m high peak located in Nepal.
A day after reaching the mountain top, the two climbers were rescued from the peak after their descent was disrupted due to bad weather.
With her ascent to Annapurna, Kiani became the first woman from a South Asian country to achieve the feat.