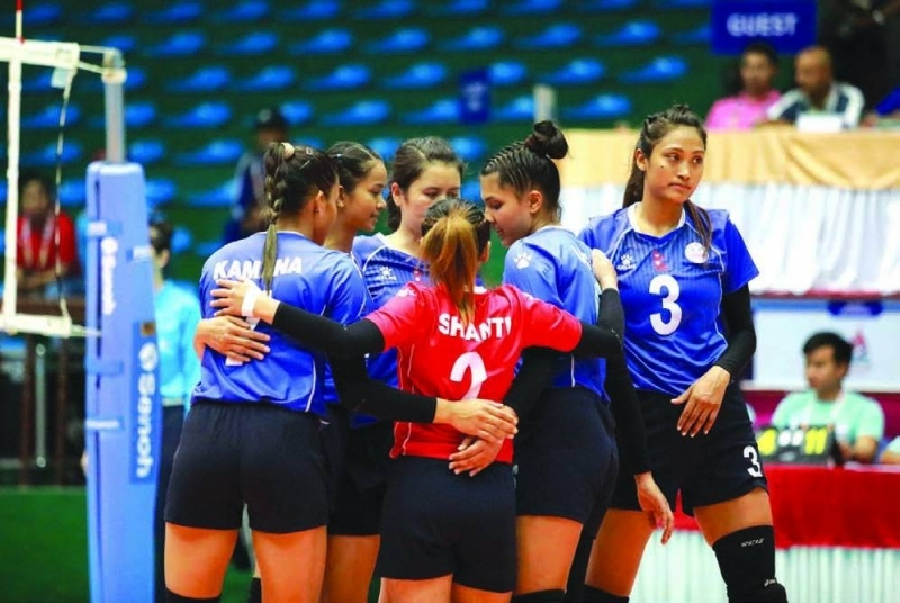 Nepal and India advanced to the semi-finals of the NSC-CAVA Women's Volleyball Challenge Cup here at the National Sports Council covered hall today.
Nepal and India recorded their second consecutive victory in Group A and earned six points each to seal berths in the last four. They will play against each other on Wednesday to decide the group winners. Bangladesh and Kyrgyzstan crashed out of the semi-finals race butthey will play for rankings.
The home team continued their great form and registered 3-0 victory over Bangladesh for their second win in two days. Nepal, who had defeated Kyrgyzstan in the opening match on Monday, dominated the contest against Bangladesh and the home team conceded a total of 27 points in the match. Nepal took the lead with a 25-10 victory in the first set before conceding just eight and nine points in the second and third set respectively.
Also, India outplayed Kyrgyzstan in straight sets for their second victory. India, who outplayed Bangladesh 3-0 in their first match on Monday, took the first set 25- 17. Kyrgyzstan then could add just eight points each in the next two sets as India completed the comprehensive victory.
In Group B, Kazakhstan recorded second straight victory and accumulated six points to make it to the last four. Kazakhstan defeated Sri Lanka 25-16, 28-26, 18-25, 29- 27 in a competitive contest.