Messi's record-breaking 496th strike secured a 1-1 draw against Strasbourg, clinching title for PSG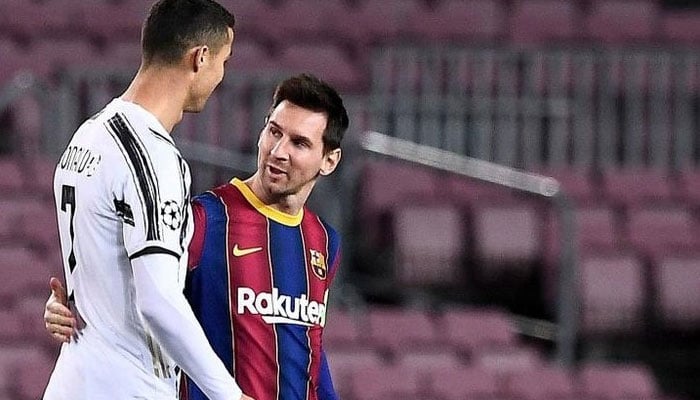 Cristiano Ronaldo (Left) and Lionel Messi (Right) AFP/File
Lionel Messi propelled Paris Saint-Germain to their second consecutive Ligue 1 championship, outperforming Cristiano Ronaldo's goal tally in Europe's top five leagues.
His record-breaking 496th strike, assisted by Kylian Mbappe, secured a 1-1 draw against Strasbourg on Saturday, clinching the title for PSG. With this achievement, Messi surpassed Ronaldo's 495 goals, leaving him in second place. Despite Kevin Gameiro's equalizer for Strasbourg, PSG needed only to avoid defeat to retain their Ligue 1 crown at the Stade de la Meinau.
This victory marks Messi's second French title, having previously won it in his debut season with Paris Saint-Germain. However, it is likely to be his final one, as the 35-year-old Argentine maestro is set to leave Parc des Princes this summer when his two-year contract expires. His farewell home game will be against Clermont Foot next Saturday.
While a romantic return to Barcelona has been speculated, Messi is reportedly considering a lucrative move to Saudi Arabia, where his long-standing rival Ronaldo has been playing for Al-Nassr since January. Rival club Al-Hilal is eager to secure Messi's signature once his contract with PSG concludes next month.
Despite the uncertainties, Barcelona remains hopeful of reuniting with Messi, with President Joan Laporta confirming ongoing discussions after Barcelona's recent La Liga triumph. Laporta emphasized Messi's strong connection to the club, stating that Barcelona is his home, despite the financial attractions in Saudi Arabia. He asserted that Barcelona has the ability to compete with any other destination.
Laporta, who sanctioned Messi's emotional departure in 2021, expressed his renewed relationship with the legendary player, acknowledging Messi as the world's best player and a desirable asset for any team.
Messi's impending departure from PSG has led to some discontent among fans, resulting in recent booing incidents. Laporta acknowledged these incidents but vowed not to disturb Messi at this time. He reiterated the deep bond between Messi and Barcelona, affirming the club's ability to compete against Saudi Arabia and other interested parties.
Barcelona's head coach, Xavi, expressed his desire for Messi's return, highlighting their friendship and ongoing conversations. However, he stressed the need for a careful approach to ensure the best outcome for Messi, the club, and the team. Xavi likened the potential reunion to the iconic "Last Dance" scenario involving Michael Jordan, evoking excitement among fans.