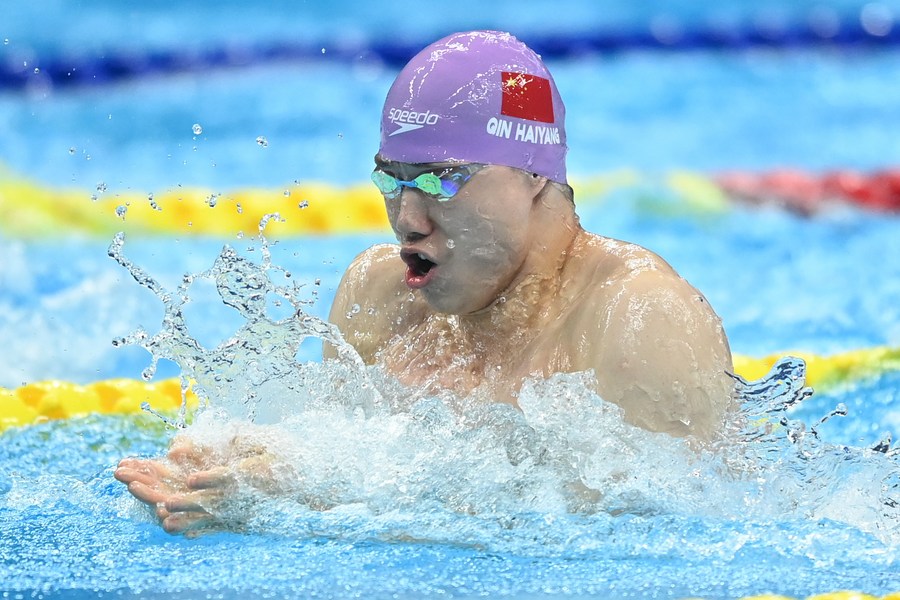 Chinese swimmer Qin Haiyang competes in the final of the men's 50m breaststroke at the 19th Asian Games in Hangzhou, east China's Zhejiang Province on Sept. 29, 2023. (Xinhua/Huang Zongzhi)
Chinese swimmers secured four more titles on Friday, concluding the tournament with 28 golds, 21 silvers, and 9 bronzes, while Indian shooters broke the world record in the 50m rifle three positions men's team.
HANGZHOU, Sept. 29-- Chinese swimmers secured four more titles on Friday, concluding the tournament with 28 golds, 21 silvers, and 9 bronzes. Meanwhile, Indian shooters broke the world record in the 50m rifle three positions men's team at the Hangzhou Asian Games.
Five world records in shooting have been set at the Asiad so far, with three belonging to India, and the remaining two created by Chinese shooters. The Indian team, consisting of Aishwary Pratap Singh Tomar, Swapnil Suresh Kusale, and Akhil Sheoran, registered a world record of 1,769 points to clinch the 50m rifle three positions men's team gold, surpassing the previous mark of 1,761 set by the United States in 2022.
Palak of India secured gold in the 10m air pistol women's individual, with her compatriot Esha Singh taking silver, followed by Kishmala Talat of Pakistan. Additionally, China's 20-year-old Du Linshu staged a strong comeback to claim gold in the 50m rifle three positions men's individual, and Zhao Nan, Jiang Ranxin, and Li Xue of China won the 10m air pistol women's team title with 1,736 points.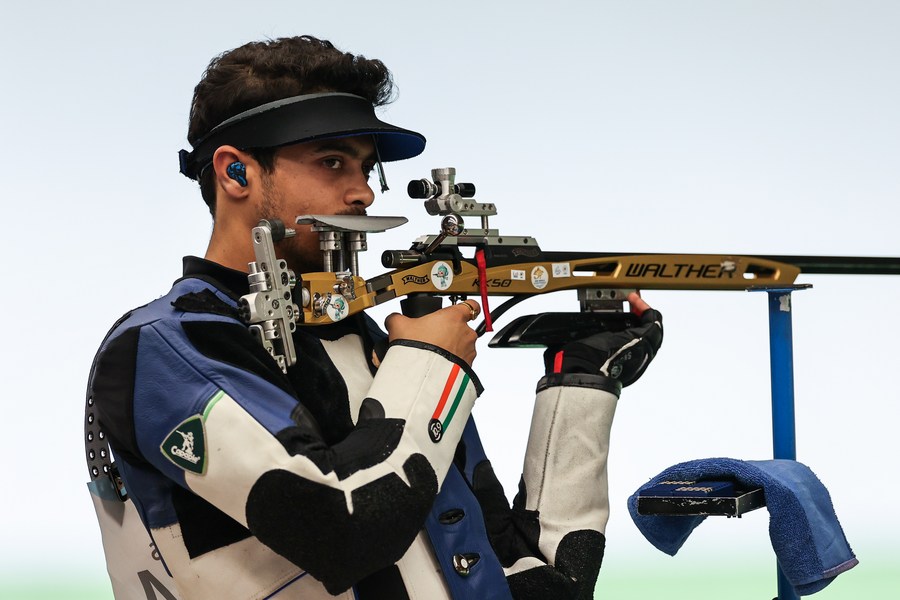 Indian shooter Swapnil Suresh Kusale competes in the 50m rifle three positions men's team event. (Xinhua/Shan Yuqi)
Du mentioned, "There's a lot of luck in winning the title this time. Indeed, I'm not stable enough in my routine training, so I need to improve my ability to resist pressure."
In the pool, Chinese swimmers continued their dominance. Olympic champion Zhang Yufei won the women's 50m butterfly, earning her 6th gold in the tournament. "I will give myself 95 points out of 100 for my performances at this Games," commented Zhang on her overall performance.
Qin Haiyang completed a breaststroke treble after winning the men's 50m breaststroke, saying, "Before the Asian Games, I didn't think about how many golds I will get, I just wanted to do what I can in every event. It was more about letting nature take its course." Li Bingjie and Xu Jiayu of China claimed victories in women's 800m freestyle and men's 200m backstroke, respectively. The 28 golds in total were the most ever for China's swimming team at an Asiad.
Japanese swimmers secured two golds, including Tomoru Honda's victory in men's 200m butterfly and the team's win in women's 4x100m medley relay. The men's 400m freestyle title went to South Korea's Kim Woo-min, finishing in 3:44.36.
As the swimming tournament concluded, athletics, another major sport offering 48 gold medals, kicked off. China dominated the men's 20km race walk, with Zhang Jun and Wang Zhaozhao finishing top two. Yang Jiayu defended her title in the women's race followed by Ma Zhenxia. These victories marked China's fifth consecutive win in the men's category and the sixth straight gold in the women's at the Games.
Zhang's time was 13 seconds faster than his result at last month's World Championships in Budapest, where Chinese walkers failed to take home any medal. Zhang said, "I've learned a lot from Budapest and have trained hard in the past month. Today I just stuck to my plan, saving my energy in the first 15km and accelerating my pace in the final 5km."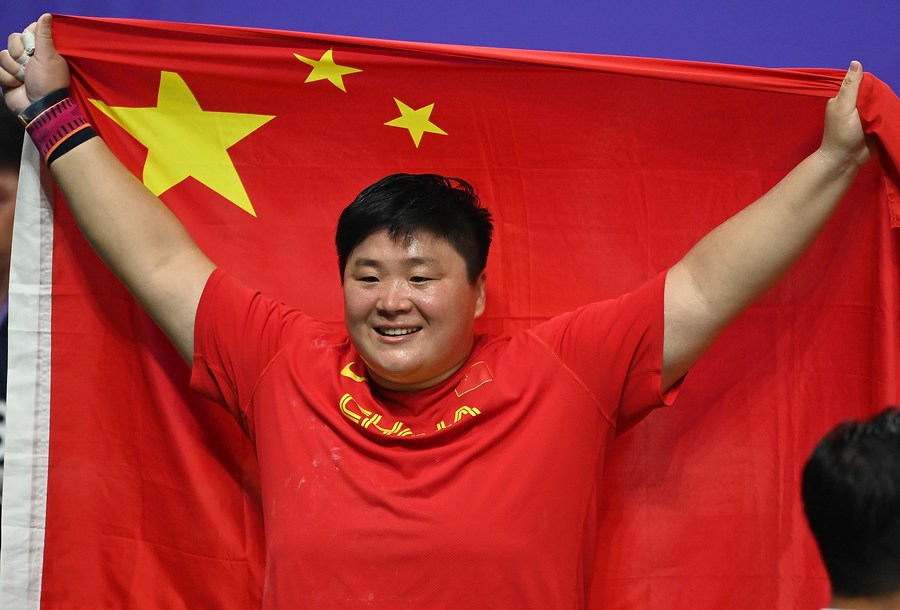 Chinese athlete Gong Lijiao celebrates after winning the women's shot put title. (Xinhua/Jiang Han)
Olympic champion Gong Lijiao pocketed her third Asiad shot put title with 19.58 meters for the hosts, while China's veteran Wang Zheng triumphed with 71.53 meters in the women's hammer throw. In the Women's 10,000m final, Violah Jepchumba Kilonzo Motosio of Bahrain crossed the finish line first in a personal best of 31:43.73.
China's tennis sensation Zheng Qinwen, a quarterfinalist at US Open, extended her form to clinch her first Asiad gold by defeating compatriot Zhu Lin 6-2, 6-4 in women's singles. Both players expressed hopes for the Paris Olympics next year, with Zheng noting, "We will definitely make our utmost efforts and expect the best results at the Olympics."
Jung Jason and Hsu Yu-hsiou upset the second-seeded Indian pair of Saketh Myneni and Ramkumar Ramanathan 6-4, 6-4 to grab Chinese Taipei's first men's doubles title at the Asiad.
Uzbekistan secured its first-ever Asiad fencing gold in the women's sabre team, while Japan retained its men's epee team title.
On the medal table, China continues a commanding lead with 105 golds, 63 silvers, and 32 bronzes, followed by Japan's 27 golds (99 in total) and South Korea's 26 (102 in total).