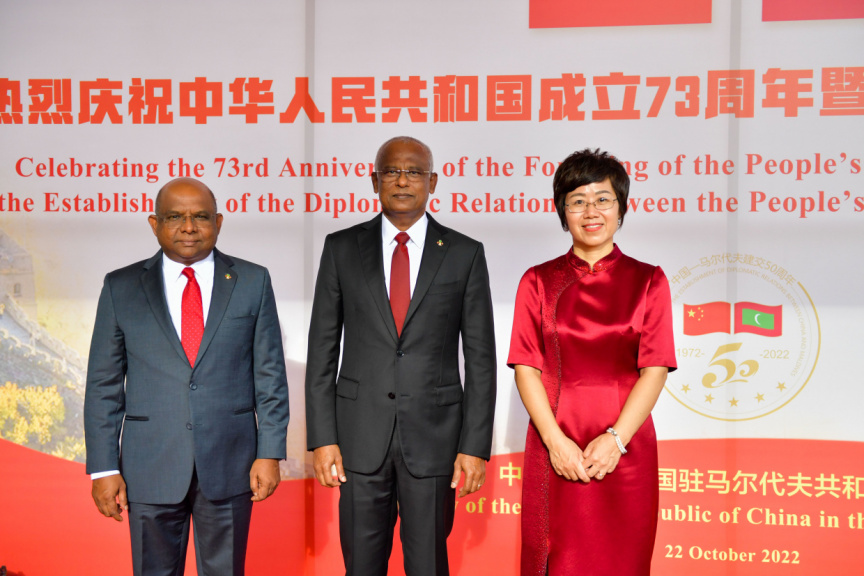 Ambassador of China to Maldives Wang Lixin (R) with President Ibrahim Mohamed Solih (C) and Foreign Minister Abdulla Shahid (L). (Photo/President's Office)
The Government of Maldives has extended an apology to the Government of China over an erroneous letter sent to the Parliament by President Ibrahim Mohamed Solih seeking approval for the appointment of a new ambassador to Taiwan.
Taiwan argues to be a self-governing state separate from Mainland China. President Solih, last week, sent a letter to the parliament seeking approval for the appointment of a new ambassador to "Republic of China" – which is Taiwan.
The letter was sent for the purpose of appointing a new ambassador to China, in place of the current ambassador.
Chinese Ambassador to the Maldives, Wang Lixin, in a tweet, said Foreign Ministry explained how the events unfolded and apologized to the Chinese government.
She further said that the government reiterated its support for the 'one-China' policy and affirmed its commitment to uphold the same.
Taiwan's diplomatic status remains a contentious issue in the international arena.
Since People's Republic of China was founded in 1949 – 181 countries, including Maldives, have established diplomatic relations with the nation on the basis of 'one-China' policy.
'One-China' policy is the diplomatic acknowledgment of China's position that there is only one sovereign state under the name China and Taiwan is part of China, as opposed to the idea that there are two states.