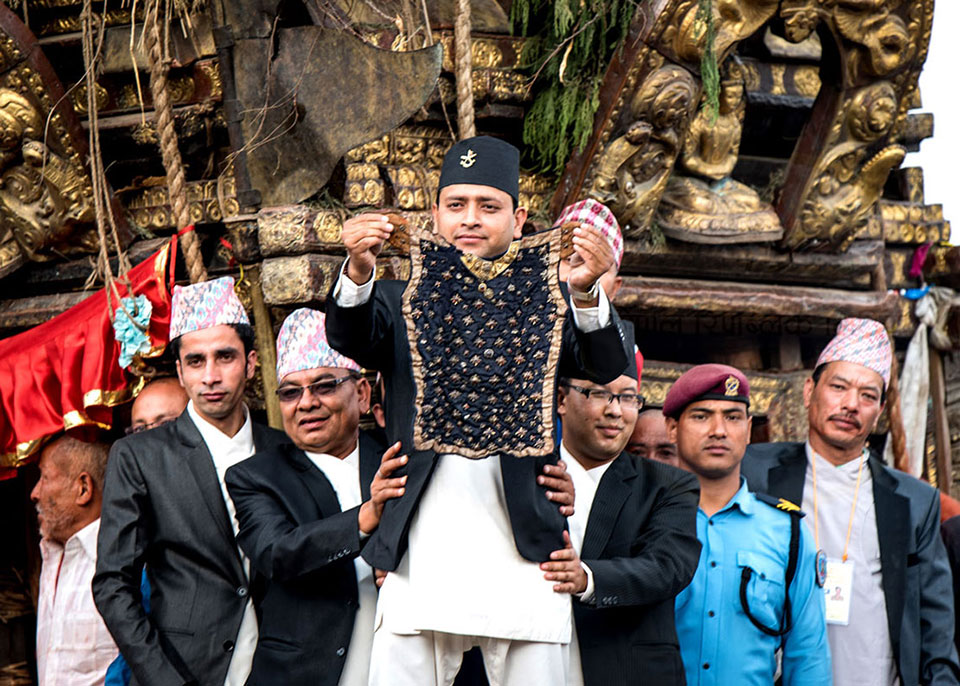 KATHMANDU, May 25: The bhoto jatra is being observed as part of the Rato Macchindranath chariot festival. The festival will come to an end with it after the chariot of the deity is pulled up to Jawalakhel of Lalitpur.
It is an annual cultural cum religious ritual of displaying the black jewel-studded bhoto (vest) believed to be of then Nagraj, the serpent king.
The head of the State attends the function. Today is a public holiday in Kathmandu valley on the occasion of this festival.
According to myth, Nagraja the serpent king gifted a vest (Bhoto) to a farmer which had been stolen by a demon.
Later on the demon presents in the Machhindranath Jatra at Lagankhel wearing the same Bhoto. Meanwhile a farmer saw him and demanded his Bhoto. But the demon refused to return the Bhoto.
To settle the dispute between a farmer and a demon for Bhoto, Bhoto was handed to Rato Machhindranath. Since then the Bhoto Jatra is celebrated every year showing Bhoto after the fourth day of a chariot arriving in Jawalakhel as per the proverbs as, 'Those who claimed will come to take the Bhoto with proof'.