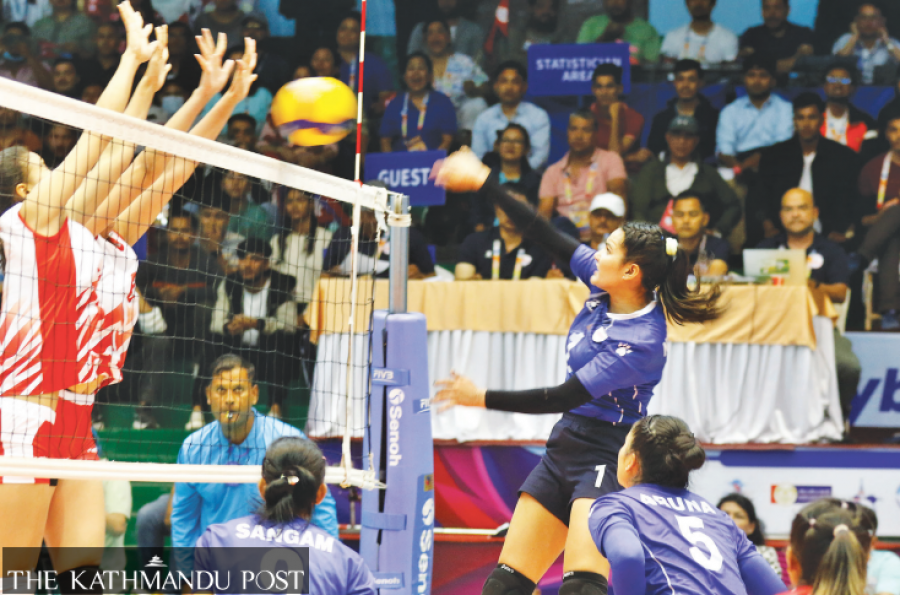 Hosts Nepal bowed out of the semi-finals of CAVA Women's Volleyball Challenge Cup going down to Kazakhstan in the fifth set at the National Sports Council covered hall on Friday.
The highly competitive match saw the home team win the second and third set before losing the first, fourth and decisive fifth set with scores of 28-30, 25-16, 25-15, 18-25, 7-15. Kazakhstan will meet India in the final on Sunday who saw off Uzbekistan in straight sets of 25-17, 25-20, 25-15.
Nepal, champions of the last two editions of the tournament formerly known as AVC Asian Central Zone Championship, gave a tough fight in the first set against the physically superior opponents and the score read neck-to-neck from the start with 28 points each at a moment. But after that the Central Asian side grabbed two points to wrap up the first set.
The finalists Kazakhstan, one of the Asian giants, and India are competing in the tournament for the first time. However, it is not the first team of Kazakhstan, according to coach Jarlagassov Timur and came with a club team representing the country.
Nepal's spiker Saraswati Chaudhary collected the highest 17 points in the game followed by 14 from spiker Usha Bhandari and 13 from Niruta Thagunna.
"We lost the game right from the first set, had we won the first set we could have won the game in straight sets. The coach would have an opportunity to change his formation if they had triumphed in the first set," Nepal's Belgian coach Jan De Brandt said.
The home team took the second set under control from the beginning and created the base for victory early on earning six points in a row to lead 8-2 before sealing the set with a comprehensive score. Nepal also made a solid start in the third set and took the lead from the onset before wrapping up.
Kazakhstan made a comeback in the fourth set leading 7-1 at a moment and maintained and widened the lead to 23-13 before clinching it. They also dominated the decisive set from the start and led 8-2 midway before winning it.
"Similar to India, the opponents had the height advantage over us. Taller players can count on the block and they serve better. But we lack tall players," said De Brandt.
Nepal's captain Aruna Shahi said that her side exhibited improved performance against tougher opponents. "We were well organised and quick. We have made rapid improvements in our level though we are not in the final," she said.
Nepal will now play the third place playoff match against Uzbekistan on Sunday.