"He [Sanauallah] is so obviously trying to cover up and preempt the horror stories about to break in the media," PTI chief says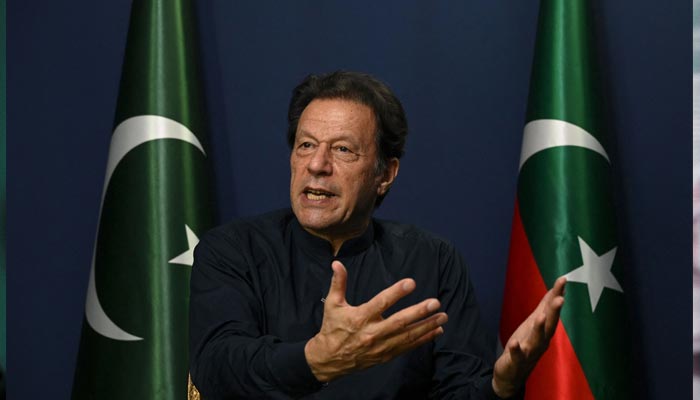 PTI Chairman Imran Khan gestures as he speaks during an interview with AFP at his residence in Lahore on May 18, 2023. — AFP
"He [Sanauallah] is so obviously trying to cover up and preempt the horror stories about to break in the media," the former prime minister wrote taking to his Twitter.
In a post-midnight presser, Sanaullah claimed intelligence agencies had intercepted a conversation indicating that the PTI was planning two separate actions, which he termed "dramas".
Without offering further details, the minister said the intercept revealed the Khan-led party was planning some action at a specific residence, without offering any further details.
He also claimed the intercepted conversations indicated that a "rape act" would be committed and blamed on law enforcers. "It was thought that perhaps this drama would be unfolded [tonight] so it was decided to inform the nation of these fiendish designs," he claimed.
Reacting to his presser, Khan said Sanaullah is "so obviously trying to cover up and preempt the horror stories about to break in the media."
"If there were any doubts about women being mistreated in jails, this press conference from this certified criminal should remove all such doubts," he wrote on Twitter.
The cricketer-turned-politician lamented that women have never been so mistreated and "harassed by the state as they have been by this fascist govt" when they were exercising their right to protest peacefully.
Khan's brief arrest earlier this month sparked days of street protests after which the PTI leaders' exodus started, as security forces launched a crackdown against the party following the attacks on civil and military institutions, including the General Headquarters in Rawalpindi and the Lahore Corps Commander's House (Jinnah House).
Over 70 lawyers and leaders — including Fawad Chaudhry, Shireen Mazari, Ali Zaidi, Imran Ismail, Aamir Mehmood Kiani, Malik Amin Aslam, Mahmood Moulvi, Maleeka Bokhari, Mussarrat and Jamshed Cheema among others — have parted ways with the PTI so far, following the May 9 mayhem.
In a separate tweet, Khan lamented the raids at Omar Ayub and Shahzad Akbar's residence.
"Today we are living in dark ages...Constitution violated, court decisions openly flouted, houses broken in without a warrant and smashed, media muzzled and no one to protect our fundamental rights," he wrote.
Since the crackdown began, Khan has been constantly calling out the government for human, particularly women right's violations. Earlier in a tweet, he acknowledged the way Pakistani women stood up for Haqeeqi Azadi and said it will be remembered.
"Also what will never be forgotten is the brutality of our security forces and the shameless way they went out of their way to abuse, hurt and humiliate our women.
"Hundreds are languishing in jail in terrible conditions. This too won't be forgotten," he wrote.