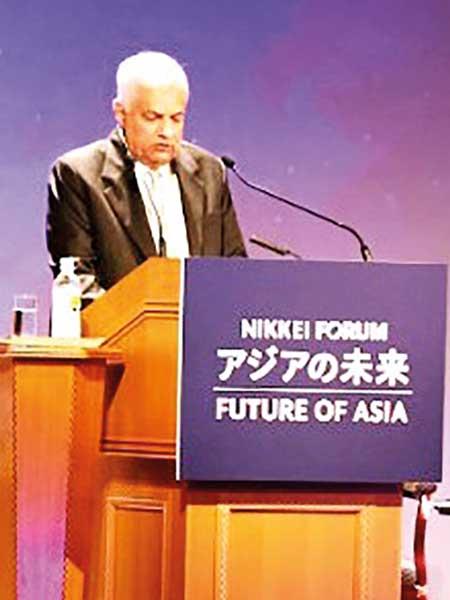 In an effort to become more integrated in global trade, Sri Lanka will apply for membership to the Regional Comprehensive Economic Partnership (RCEP), President Ranil Wickremesinghe announced yesterday.
By entering into a free trade agreement with the Asia Pacific nations, the island nation aims to achieve a higher level of economic liberalisation.
Wickremesinghe made the announcement in Tokyo, Japan this week while addressing the 'Nikkei Forum: Future of Asia' where he shared the island nation's approach to the Indian Ocean and Asia-Pacific regions.
With the RCEP, Sri Lanka will be able to reap the benefits of entering into an agreement with 10 ASEAN countries and six other countries in the Asia Pacific region.
The RCEP member countries are Australia, Brunei, Cambodia, China, Indonesia, Japan, South Korea, Laos, India, Malaysia, Myanmar, New Zealand, the Philippines, Singapore, Thailand, and Vietnam.
Sri Lanka will be able to boost trade and investment in the region as the RCEP is the world's largest FTA in terms of GDP.
"Sri Lanka is committed to multi layered connectivity in the Indo-Pacific. Furthermore, we also support Prime Minister Kishida's Principles for Peace and Rules for Prosperity," he told the forum.
President Wickremesinghe went on to point out that Sri Lanka welcomes the G7s announcement that they are prepared to build a stable and constructive relationship with China for which Japan pledged its commitment.
"We appreciate this cooperative approach of Japan and give it our full support. It is crucial for the emergence of a peaceful and prosperous Asian region. We also support a dialogue between all Asian nations," he said while adding that Sri Lanka is of the view that Japan, China, India, and ASEAN, should commence an open-ended dialogue amongst themselves and thereafter with the other Asian countries.
"This is the first step in establishing a new framework for peace and cooperation in Asia," he stressed.