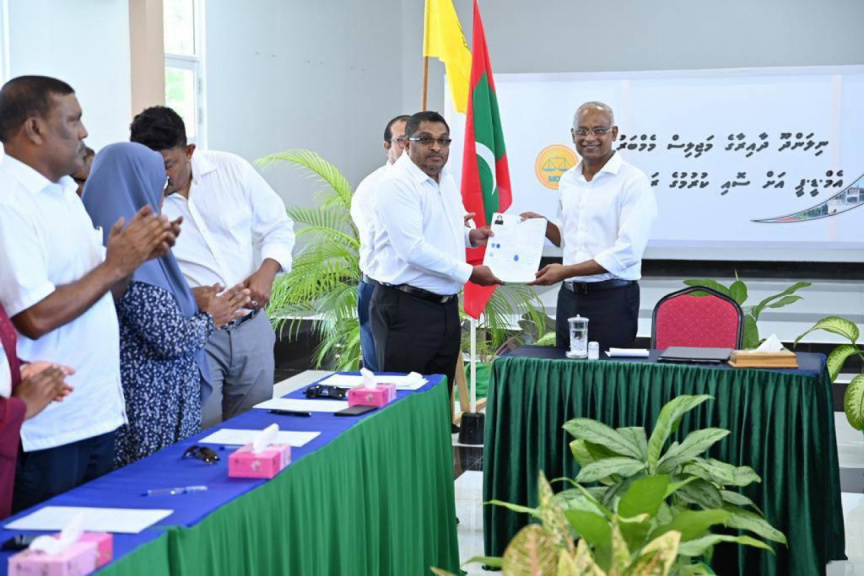 Nilandhoo MP Abdul Muhsin Hameed (J4), who was elected to the Parliament as an independent candidate, has joined the main ruling Maldivian Democratic Party (MDP).
He presented his membership form to President Ibrahim Mohamed Solih, who visited Nilandhoo as part of a tour of the larger F. Atoll, on Saturday morning.
Rumors of an imminent move to MDP had grown strong after J4 signed a no-confidence motion against Deputy Speaker Eva Abdulla last week. He was the only independent MP to join MDP in submitting the motion.
J4 is known for remaining largely removed from heated political debates at the Parliament.
He entered the Maldivian political arena as a member of Dhivehi Rayyithunge Party (DRP). He later left DRP for the Progressive Party of Maldives (PPM) with former President Abdulla Yameen Abdul Gayoom, and served as Deputy Youth Minister during his administration.
He disappeared from the political scene after Yameen's defeat in the 2018 elections, and reappeared again in 2019, as a contender for the Nilandhoo parliamentary seat against PPM's candidate.
He had later been involved in founding the Maldives National Party (MNP), but never joined the party.