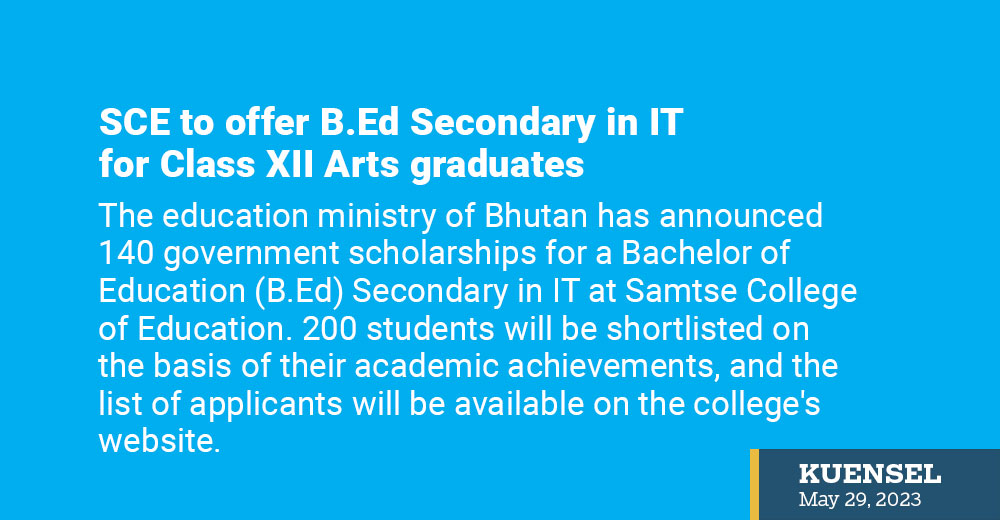 In a move to support arts students affected by the discontinuation of regular arts programmes, the education ministry of Bhutan has announced 140 government scholarships for a Bachelor of Education (B.Ed) Secondary in Information Technology (IT) at Samtse College of Education (SCE), under the Royal University of Bhutan.
The scholarships, which are part of the ministry's initiative, are intended to provide an opportunity for arts students who would have been eligible for and admitted to the now-defunct arts programmes. The ministry issued a notice on May 25 announcing that the online admissions portal will open on May 26 and close on June 1.
According to the announcement, approximately 200 students will be shortlisted on the basis of their academic achievements in classes X and XII, with a 30:70 percent ratio. The list of applicants who have been shortlisted for the selection interview will be available on the college's website beginning June 7.
The selection interview, which will assess the students' academic proficiency, communication skills, clarity of speech, creativity, analytical skills, personal attributes, aptitude, and attitude towards becoming a teacher, will take place face-to-face from June 13 to 17.
The selection process's final results will be announced on June 26.
It is important to note that the ministry's selection criteria only include students who have studied mathematics, ruling out those who do not have a mathematics background from being eligible for the scholarship.
The ministry clarified that the scholarships are part of the programme for higher secondary grants. In a previous interview, Education Minister Jai Bir Rai said that over 7,500 students applied for the 170 available slots at Paro College of Education (PCE). He emphasised that there is a high level of interest in the teaching profession among young people, and the ministry intends to select the most talented students to make teaching an appealing career option.
SCE, one of Bhutan's oldest colleges, discontinued B.Ed programmes in 2019 to focus on post-graduate and master's programmes. The college launched a Bachelor of Arts in Social Work programme the same year, though there was no intake for the current academic year.
The education ministry's initiative demonstrates the government's commitment to providing alternative educational opportunities and assisting arts students in their pursuit of higher education.
Bhutan aims to address the needs of students affected by the discontinuation of arts programmes and contribute to the development of a skilled and competent teaching workforce in the country by offering scholarships for B.Ed Secondary in IT.