Lionel Messi played a crucial role, scoring opening goal and breaking Cristiano Ronaldo's scoring record for Europe's top five leagues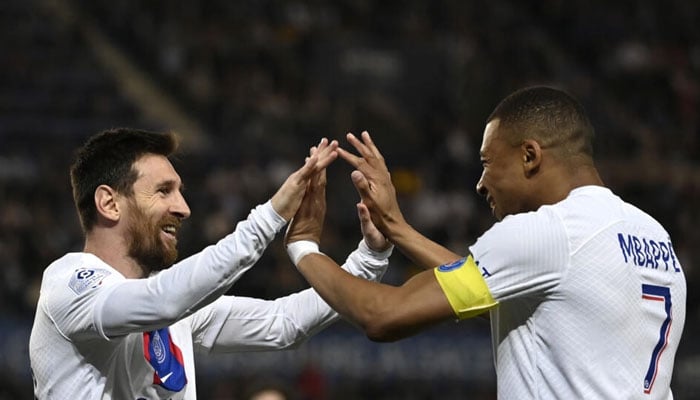 Lionel Messi celebrates with Kylian Mbappe after scoring for Paris Saint-Germain as they drew 1-1 in Strasbourg on Saturday to clinch the Ligue 1 title. AFP/File
Paris Saint-Germain (PSG) made history by winning their 11th French league title, securing the record with a 1-1 draw against Strasbourg.
Lionel Messi played a crucial role, scoring the opening goal and breaking Cristiano Ronaldo's scoring record for Europe's top five leagues with his 496th career league goal in Europe. The draw gave PSG an insurmountable four-point lead over second-placed Lens with one game remaining.
Lens secured second place and a coveted spot in the Champions League group stage by defeating Ajaccio 3-0. Meanwhile, Marseille settled for third place and will enter the Champions League qualifying rounds. Lille emerged as the front-runner for a Europa League spot after coming from behind to defeat Nantes 2-1, while Rennes secured fifth place with a 2-0 victory over Monaco.
The relegation battle intensified as Nantes found themselves on the brink of relegation after a 1-1 draw between Auxerre and Toulouse. With four teams set to go down this season, Nantes will need a victory in the final match to have any chance of avoiding relegation. Angers, Ajaccio, and Troyes had already been relegated.
PSG's title triumph marked their ninth league title in the last 11 seasons, establishing their dominance in French football under Qatari ownership. The win also surpassed the previous record of 10 titles held by Saint-Etienne since 1981. PSG president Nasser al-Khelaïfi expressed pride in surpassing Saint-Etienne's record and hailed it as a historic moment for the club.
The victory carried significance for Messi as well, potentially serving as his last game for PSG. Despite facing criticism and a suspension earlier in the season, Messi's goal allowed fans to celebrate and added another major trophy to his collection.
Looking ahead, Lens, Marseille, and Lille are set to represent France in European competitions next season, with Lens and Marseille in the Champions League and Lille in the Europa League. Nantes faces an uphill battle to avoid relegation, while Angers, Ajaccio, and Troyes have already confirmed their relegation to Ligue 2.