"All is well so far," Foreign Office Spokesperson Mumtaz Zehra Baloch tells Geo News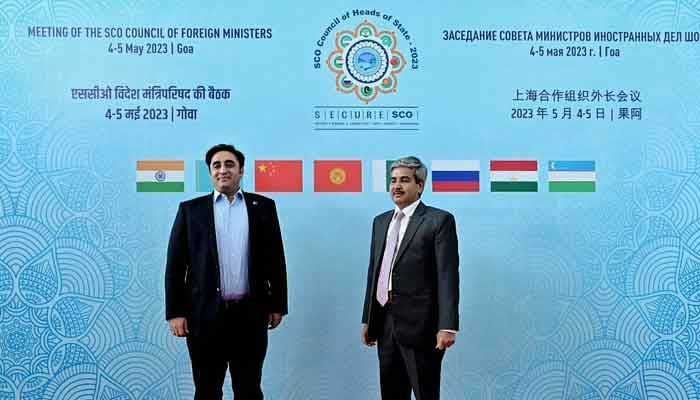 Foreign Minister Bilawal Bhutto-Zardari arrives in Goa to attend the SCO Foreign Ministers' meeting in India's Goa city on May 4, 2023. — ANI
Foreign Office Spokesperson Mumtaz Zehra Baloch Friday said India has given Pakistan no reason to complain regarding Foreign Minister Bilawal Bhutto-Zardari's visit to attend the Shanghai Cooperation Organisation (SCO) Council of Foreign Ministers (CFM) summit in Goa.
"They haven't given us a chance to complain. All is well so far," she said when speaking to Geo News in an exclusive interview.
When asked if Foreign Minister Bilawal Bhutto-Zardari's handshake with his counterpart Indian External Affairs Minister Subrahmanyam Jaishankar was reflective of past bitterness, Baloch said: "You are giving it a lot of importance. It was a routine formality."
Bilawal is leading the country's delegation at the SCO's Council of Foreign Ministers ongoing meeting in Goa.
A day earlier, he arrived in the Indian city on his first-ever visit to India, hoping for a "successful" meeting of the SCO foreign ministers.
Following his arrival, Bilawal became the first Pakistani foreign minister who visited the neighbouring country after a gap of nearly 12 years.
Speaking to the media after landing in Goa, the foreign minister said, "I am happy that I have reached here in Goa to attend the SCO meeting. I hope that the SCO CFM will be a success."
The spokesperson further told Geo News that a host welcomed their guest like they did for other foreign ministers.
Responding to a question regarding Prime Minister Shehbaz Sharif's visit to India in July to attend the SCO summit, the FO spokesperson said it is too early to say anything at the moment.
During the visit, Bilawal — alongside his delegation — is set to engage with several of his counterparts from different nations.
In a video message that he posted on Twitter, the foreign minister said he is scheduled to meet his Russian counterpart, Sergey Lavrov. Then, he will meet Uzbekistan's Foreign Minister Bakhtiyor Saidov.
Following the meetings, Bilawal is set to attend a dinner in which foreign ministers from all the nations will be present. After that, he is set to engage with media personnel for interviews.